Contact Us

Table of Contents

Search Site



~

Also on this website:
Toby Johnson's books:
GAY SPIRITUALITY: The Role of Gay Identity in the Transformation of Human Consciousness
GAY PERSPECTIVE: Things Our Homosexuality Tells Us about the Nature of God and the Universe
SECRET MATTER: updated, revised & expanded edition from Lethe Press with Afterword by Mark Jordan

GETTING LIFE IN PERSPECTIVE: A romance novel set in the 1980s and the 1890s.

THE FOURTH QUILL, a novel about attitudinal healing and the problem of evil

TWO SPIRITS: A Story of Life with the Navajo, a collaboration with Walter L. Williams

CHARMED LIVES: Spinning Straw into Gold: Reclaiming Our Queer Spirituality Through Story
PLAGUE: A NOVEL ABOUT HEALING.

About ordering

Books on Gay Spirituality:
White Crane Gay Spirituality Series
---
Articles and Excerpts:

Read Toby's review of Samuel Avery's The Dimensional Structure of Consciousness

Funny Coincidence: "Aliens Settle in San Francisco"
---
The Simple Answer to the Gay Marriage Debate

Why gay people should NOT Marry

What's ironic

Shame on the American People

---
A Bifurcation of Gay Spirituality
Q&A about Jungian ideas in gay consciousness
What Jesus said about Gay Rights
Common Experiences Unique to Gay Men
Is there a "uniquely gay perspective"?
The Reincarnation of Edward Carpenter
Interview on the Nature of Homosexuality
What the Bible Says about Homosexuality

Mesosexual Ideal for Straight Men

Varieties of Gay Spirituality

Waves of Gay Liberation Activity

Why Gay Spirituality: Spirituality as Artistic Medium

---
Easton Mountain Retreat Center
Andrew Harvey & Spiritual Activism
The Gay Spirituality Summit in May 2004 and the "Statement of Spirituality"
---
"It's Always About You"

The myth of the Bodhisattva Avalokitesvara


Joseph Campbell's description of Avalokiteshvara

You're Not A Wave

Joseph Campbell Talks about Aging

What is Enlightenment?

What is reincarnation?

How many lifetimes in an ego?

Emptiness & Religious Ideas

Experiencing experiencing experiencing

Going into the Light

Meditations for a Funeral

Meditation Practice

The way to get to heaven

Buddha's father was right


---
Advice to Travelers to India & Nepal
The Danda Nata & goddess Kalika
Nate Berkus is a bodhisattva
John Boswell was Immanuel Kant
The Two Loves
---
The Joseph Campbell Connection

Campbell & The Pre/Trans Fallacy
Gay Spiritual Functions

The subtle workings of the spirit in gay men's lives.

The Sinfulness of Homosexuality
Proposal for a study of gay nondualism

---
"The Evolution of Gay Identity"
"St. John of the Cross &
the Dark Night of the Soul."
Religious Articulations of the Secret

---
The Moulting of the Holy Ghost
The Hero's Journey as archetype
Marian Doctrines: Immaculate Conception & Assumption

---
Teenage Prostitution and the Nature of Evil

Allah Hu: "God is present here"

Adam and Steve

The Life is in the Blood

Gay retirement and the "freelance monastery"
---
The mystical experience at the Servites' Castle in Riverside
The Great Dance according to C.S.Lewis

---
The Techniques Of The World Saviors
Part 1: Brer Rabbit and the Tar-Baby
Part 2: The Bodhisattva Avalokiteshvara
Part 3: Jesus and the Resurrection
Part 4: A Course in Miracles
---
How Gay Souls Get Reincarnated

---
In honor of Sir Arthur C Clarke

What are you looking for in a gay science fiction novel?
---
---
Toby's friend and nicknamesake Toby Marotta.

Harry Hay, Founder of the gay movement
About Karl Heinrich Ulrichs, the first man to really "come out"

About Michael Talbot, gay mystic

---
Book Reviews




Be Done on Earth by Howard E. Cook



Pay Me What I'm Worth by Souldancer



The Way Out by Christopher L Nutter
The Gay Disciple by John Henson

Art That Dares by Kittredge Cherry

Coming Out, Coming Home by Kennth A. Burr

Extinguishing the Light by B. Alan Bourgeois

Over Coffee: A conversation For Gay Partnership & Conservative Faith by D.a. Thompson

Dark Knowledge by Kenneth Low

Janet Planet by Eleanor Lerman

The Kairos by Paul E. Hartman

Wrestling with Jesus by D.K.Maylor

Kali Rising by Rudolph Ballentine

The Missing Myth by Gilles Herrada

The Secret of the Second Coming by Howard E. Cook

The Scar Letters: A Novel by Richard Alther

The Future is Queer by Labonte & Schimel

Missing Mary by Charlene Spretnak

Gay Spirituality 101 by Joe Perez

Cut Hand: A Nineteeth Century Love Story on the American Frontier by Mark Wildyr

Radiomen by Eleanor Lerman

Nights at Rizzoli

by Felice Picano

The Key to Unlocking the Closet Door by Chelsea Griffo

The Door of the Heart by Diana Finfrock Farrar

Occam's Razor by David Duncan

Grace and Demion by Mel White

Gay Men and The New Way Forward by Raymond L. Rigoglioso

The Dimensional Stucture of Consciousness by Samuel Avery

The Manly Pursuit of Desire and Love by Perry Brass

Love Together: Longtime Male Couples on Healthy Intimacy and Communication by Tim Clausen

War Between Materialism and Spiritual by Jean-Michel Bitar

The Serpent's Gift: Gnostic Reflections on the Study of Religion by Jeffrey J. Kripal

Esalen: America and the Religion of No Religion
by Jeffrey J. Kripal

The Invitation to Love by Darren Pierre

Brain, Consciousness, and God: A Lonerganian Integration by Daniel A Helminiak

A Walk with Four Spiritual Guides by Andrew Harvey

Can Christians Be Saved? by Stephenson & Rhodes

The Lost Secrets of the Ancient Mystery Schools by Stephenson & Rhodes

Keys to Spiritual Being by Adrian Ravarour

In Walt We Trust by John Marsh

Solomon's Tantric Song by Rollan McCleary

A Special Illumination by Rollan McCleary

Aelred's Sin by Lawrence Scott

Fruit Basket by Payam Ghassemlou

Internal Landscapes by John Ollom

Princes & Pumpkins by David Hatfield Sparks

Blood of the Goddess by William Schindler

Sanctity & Male Desire by Donald Boisvert

Roads of Excess, Palaces of Wisdom by Jeffrey Kripal

Evolving Dharma by Jay Michaelson

Jesus in Salome's Lot by Brett W. Gillette

The Man Who Loved Birds by Fenton Johnson

The Vatican Murders by Lucien Gregoire

"Sex Camp" by Brian McNaught

Out & About with Brewer & Berg
Episode One: Searching for a New Mythology

The Soul Beneath the Skin by David Nimmons

Out on Holy Ground by Donald Boisvert

The Revolutionary Psychology of Gay-Centeredness by Mitch Walker

Out There by Perry Brass

The Crucifixion of Hyacinth by Geoff Puterbaugh

The Silence of Sodom by Mark D Jordan

It's Never About What It's About by Krandall Kraus and Paul Borja

ReCREATIONS, edited by Catherine Lake

Gospel: A Novel by WIlton Barnhard

Keeping Faith: A Skeptic's Journey by Fenton Johnson

Dating the Greek Gods by Brad Gooch

Telling Truths in Church by Mark D. Jordan

The Substance of God by Perry Brass

The Tomcat Chronicles by Jack Nichols

10 Smart Things Gay Men Can Do to Improve Their Lives by Joe Kort

Scissors, Paper, Rock by Fenton Johnson

Psychotherapy on Yourself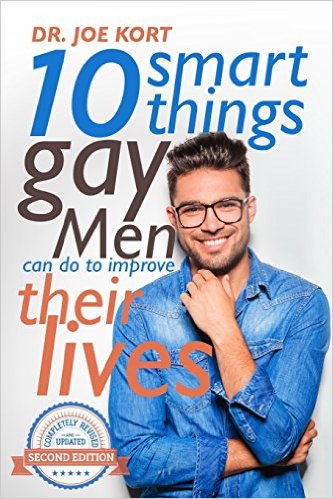 10 Smart Things Gay Men Can Do to Improve Their Lives


by Joe Kort

Originally published by Alyson (2003), now republished in a 2nd edition, 220 pages

March 8, 2016




978-0997389821



Available from Amazon.com -- new and used -- paper and hard cover.


10 Smart Things Gay Men Can Do To Improve Their Lives

This review of the first edition appeared in White Crane Journal #62, Fall 2004


Back in the mid-80s, when I was in private practice as a gay psychotherapist, I used to give clients a copy of Scott Peck's The Road Less Traveled after their first session. The book very nicely described issues that regularly come up in therapy by recounting case-histories of Peck's clients and, more importantly, presented how the psychotherapeutic process of talking over one's personal life history can dramatically change patterns that have proved painful and unfulfilling. Peck focused on the distinction between "neurosis" and "character disorder" as unifying theme of all the case histories, and so of his description of healthy personality functioning. (He also explained why paying the therapist was an essential part of the healing process—something every therapist in private practice has to confront.)

Reading about other people's psychological patterns and life problems—and especially how they solved them—in itself can be amazingly healing, and can certainly provide motivation for making changes for oneself.

I loved Scott Peck's book (it helped me through a "midlife crisis" of my own). I was happy to give it to prospective clients to get them started on their own healing journey down that "road less taken" to psychological insight and self-understanding.

Well, if I were in back in practice today, I'd buy a case of Joe Kort's 10 Smart Things and start passing them out!

Though more succinct and to the point—and less quasi-religious—than Peck, Kort does precisely the same thing. Through recounting case-histories of clients he has seen in his 16-year psychotherapy practice, Kort presents a list of ten maxims for the successful gay life. Much the way, Scott Peck focused on the neurosis/character disorder axis, Joe Kort focuses his model of healthy functioning on a closeted vs gay/sex obsessed axis. And, most importantly, he offers the same kind of healing discussion that is therapeutic in itself and that gives motivation and zeal for entering therapy with a gay positive practitioner.

Kort's 10 things are obvious, but bear articulation and elucidation. The Ten Commandments of Moses are obvious too, but inscribing them in stone made all the difference.

• Take responsibility for your own life
• Affirm yourself by coming out
• Resolve issues with your family
• Graduate from eternal adolescence
• Avoid (or overcome) sexual addiction
• Learn from successful mentors
• Take advantage of psychotherapy "workouts"
• Maintain rewarding relationships
• Understand the stages of love
• Commit to a partner

The book gets better and better as it goes along. I found the chapter on "Therapy as Workout" to be the richest. Kort defines the Gay and Lesbian Affirmative Psychotherapeutic approach, describes the common life stages of gay men's development (following Erik Erikson's familiar model mutatis mutandis), explains the concept of transference, and demonstrates how self-examination fosters wholeness and happiness.

Some of the chapters offer very specific how-to advice, like a six-point list of symptoms of sexual addiction or a twelve-point list of tips for successful dating. There's an appealing interweaving of Joe Kort's own life story with his discussions of clients' stories and problems. The final chapter celebrates Kort's own long-term relationship in the process of arguing that long-term relationships are much more prevalent and successful that commonly seen.

In the context of reviewing this book in White Crane Journal, I have to observe there is an 11th smart thing gay men can—and need to—do for their happiness and fulfillment, and that is to "Understand the nature of religion." Kort discusses religion tangentially in the process of describing gay men's negative conditioning. He doesn't go the next step to explain how gay insight into the superstitious and obsessive-compulsive side of religion can help free everybody, gay and straight, to create a successful and modern personal "spirituality."

This book is just what you're looking for if you're thinking about making changes in your life or entering therapy, or if you're just wanting a little touch-up in your psychological functioning.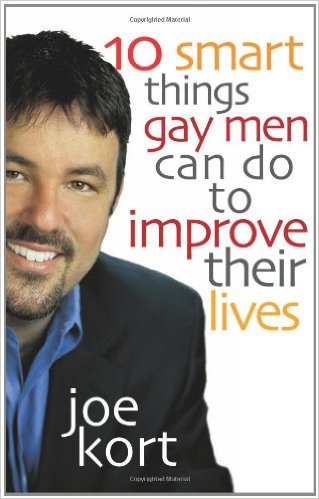 And—I know this sounds superficial, especially in light of Kort's various warnings about falling into pop-gay sex obsession—the cover of the Alyson edition is graced with a handsome photo of Joe Kort (looking a little like the recently deceased TV personality, John Ritter). You'll probably enjoy occasionally closing the book and gazing at the cover, thinking how nice to have a sweet, sensible, caring and realistically good-looking gay man for a psycho-spiritual guide. And how generous of Joe to have made himself so!

There's additional information on the book and the 10 Smart Things at joekort.com.






Reviewed by Toby Johnson, author of

Gay Spirituality: Gay Identity and the Transformation of Human Consciousness, The Myth of the Great Secret: An Appreciation of Joseph Campbell and other novels and books