Contact Us

Table of Contents

Search Site



~

Also on this website:
Toby Johnson's books:
GAY SPIRITUALITY: The Role of Gay Identity in the Transformation of Human Consciousness
GAY PERSPECTIVE: Things Our Homosexuality Tells Us about the Nature of God and the Universe
SECRET MATTER: updated, revised & expanded edition from Lethe Press with Afterword by Mark Jordan

GETTING LIFE IN PERSPECTIVE: A romance novel set in the 1980s and the 1890s.

THE FOURTH QUILL, a novel about attitudinal healing and the problem of evil

TWO SPIRITS: A Story of Life with the Navajo, a collaboration with Walter L. Williams

CHARMED LIVES: Spinning Straw into Gold: Reclaiming Our Queer Spirituality Through Story
PLAGUE: A NOVEL ABOUT HEALING.

About ordering

Books on Gay Spirituality:
White Crane Gay Spirituality Series
---
Articles and Excerpts:

Read Toby's review of Samuel Avery's The Dimensional Structure of Consciousness

Funny Coincidence: "Aliens Settle in San Francisco"
---
The Simple Answer to the Gay Marriage Debate

Why gay people should NOT Marry

What's ironic

Shame on the American People

---
A Bifurcation of Gay Spirituality
Q&A about Jungian ideas in gay consciousness
What Jesus said about Gay Rights
Common Experiences Unique to Gay Men

The Reincarnation of Edward Carpenter
Interview on the Nature of Homosexuality
What the Bible Says about Homosexuality

Mesosexual Ideal for Straight Men

Varieties of Gay Spirituality

Waves of Gay Liberation Activity

Why Gay Spirituality: Spirituality as Artistic Medium

---
Easton Mountain Retreat Center
Andrew Harvey & Spiritual Activism
The Gay Spirituality Summit in May 2004 and the "Statement of Spirituality"
---
"It's Always About You"

The myth of the Bodhisattva Avalokitesvara


Joseph Campbell's description of Avalokiteshvara

You're Not A Wave

What is Enlightenment?

What is reincarnation?

How many lifetimes in an ego?

Emptiness & Religious Ideas

Experiencing experiencing experiencing

Going into the Light

Meditations for a Funeral

Meditation Practice

The way to get to heaven

Buddha's father was right


---
Advice to Travelers to India & Nepal
The Danda Nata & goddess Kalika
Nate Berkus is a bodhisattva
John Boswell was Immanuel Kant
The Two Loves
---
The Joseph Campbell Connection

Campbell & The Pre/Trans Fallacy
Gay Spiritual Functions

The subtle workings of the spirit in gay men's lives.

The Sinfulness of Homosexuality
Proposal for a study of gay nondualism

---
"The Evolution of Gay Identity"
"St. John of the Cross &
the Dark Night of the Soul."
Religious Articulations of the Secret

---
The Moulting of the Holy Ghost
The Hero's Journey as archetype
Marian Doctrines: Immaculate Conception & Assumption

---
Teenage Prostitution and the Nature of Evil

Allah Hu: "God is present here"

Adam and Steve

The Life is in the Blood

Gay retirement and the "freelance monastery"
---
The mystical experience at the Servites' Castle in Riverside
The Great Dance according to C.S.Lewis

---
The Techniques Of The World Saviors
Part 1: Brer Rabbit and the Tar-Baby
Part 2: The Bodhisattva Avalokiteshvara
Part 3: Jesus and the Resurrection
Part 4: A Course in Miracles
---
How Gay Souls Get Reincarnated

---
In honor of Sir Arthur C Clarke

What are you looking for in a gay science fiction novel?
---
---
Toby's friend and nicknamesake Toby Marotta.

Harry Hay, Founder of the gay movement
About Karl Heinrich Ulrichs, the first man to really "come out"

About Michael Talbot, gay mystic

---
Book Reviews




Be Done on Earth by Howard E. Cook



Pay Me What I'm Worth by Souldancer



The Way Out by Christopher L Nutter
The Gay Disciple by John Henson

Art That Dares by Kittredge Cherry

Coming Out, Coming Home by Kennth A. Burr

Extinguishing the Light by B. Alan Bourgeois

Over Coffee: A conversation For Gay Partnership & Conservative Faith by D.a. Thompson

Dark Knowledge by Kenneth Low

Janet Planet by Eleanor Lerman

The Kairos by Paul E. Hartman

Wrestling with Jesus by D.K.Maylor

Kali Rising by Rudolph Ballentine

The Missing Myth by Gilles Herrada

The Secret of the Second Coming by Howard E. Cook

The Scar Letters: A Novel by Richard Alther

The Future is Queer by Labonte & Schimel

Missing Mary by Charlene Spretnak

Gay Spirituality 101 by Joe Perez

Cut Hand: A Nineteeth Century Love Story on the American Frontier by Mark Wildyr

Radiomen by Eleanor Lerman

Nights at Rizzoli

by Felice Picano

The Key to Unlocking the Closet Door by Chelsea Griffo

The Door of the Heart by Diana Finfrock Farrar

Occam's Razor by David Duncan

Grace and Demion by Mel White

Gay Men and The New Way Forward by Raymond L. Rigoglioso

The Dimensional Stucture of Consciousness by Samuel Avery

The Manly Pursuit of Desire and Love by Perry Brass

Common Experiences






That gay people are raised, inadvertently, by straight society to be able to rise to a perspective—the outsider's perspective—and see a straight world AND a gay world and to understand the straight world as but one way of viewing the world is what I have called "Gay Perspective" and which Harry Hay called "the gay window."

Being a deviation from "normal" alters homosexuals' experience of the world; having the sexual and emotional feelings that we do results in certain traits and influences the "filters" through which we see things.


• Sex is not about having children or getting pregnant or creating new life or "spreading our seed." We never think about pregnancy during sex.

• Sex is a celebration of physical pleasure and a practice of relationship development — cultivating love and affection.

• Not having children (for most—but not all—of us) means we are not vested in the next generation nor responsible for what happens to our DNA. If we choose to be responsible to the future, it's out of compassion, service and virtue, not out of possessiveness or resistance to mortality. We don't live on in our offspring.

• We fall in love with people who could be ourselves. Our self-image is interrelated with our attractions to others. We ask the question: "Would we have sex with ourselves?"

• We can identify with those we love — Harry Hay's subject-SUBJECT. We can want to be them! We can want to incorporate their traits into ours, blending into each other, rather than complementing from opposite ends of the spectrum.

• We have a "coming out"/conversion experience sometime in our lives. We realize something that "explains things" — and changes everything.

• We realize we are not like our parents, and will not live the lives we have seen them living.

• We feel something in our bodies that we know other people don't feel. And we know we don't feel something that most other people do feel.

• We have a secret. We think about who we share the secret with and who we don't.

• We look for other people in the world like us, and experience pleasure and happiness in finding them.

• We make love and have sex in ways that violate toilet-training taboos and have had to transform our experiences of our bodies.

• We aren't as role-bound in sex and love. We can be either, neither, nor and both. We can be top, bottom and even both at the same time.

• Monogamy and commitment in relationship comes from a different motivation than adultery as the risk of pregnancy and dilution of genetic heritage and property rights.

• We probably fear social disapproval — even when we're totally out and self-confident in who we are. We face a certain amount of jeopardy just by being who we are.

• We aren't "outlaws" anymore, but we do live in the "margins." Even though it is an influential margin and is disproportionately represented among cultural leaders and bellwethers.

• If we think about it, we see that we're part of a tradition of marginal lives and marginal behavior that stretches back into history.

• We likely long for a better world, and experience that longing as sexual.


I have always wondered about a certain question
here—do we seek social change and spiritual serenity
because we are gay, or are we gay because we seek social
and spiritual change? —Paul Reed, Serenity, p. 13


• We have had to rethink moral and religious laws. We have learned to mistrust authority.

• We have learned to "see behind the curtain."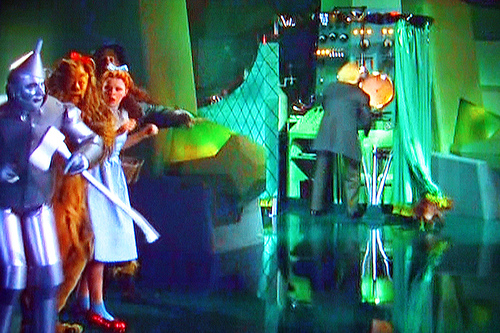 Here it is as a mystical image