Contact Us

Table of Contents

Search Site



~

Also on this website:
Toby Johnson's books:
GAY SPIRITUALITY: The Role of Gay Identity in the Transformation of Human Consciousness
GAY PERSPECTIVE: Things Our Homosexuality Tells Us about the Nature of God and the Universe
SECRET MATTER: updated, revised & expanded edition from Lethe Press with Afterword by Mark Jordan

GETTING LIFE IN PERSPECTIVE: A romance novel set in the 1980s and the 1890s.

THE FOURTH QUILL, a novel about attitudinal healing and the problem of evil

TWO SPIRITS: A Story of Life with the Navajo, a collaboration with Walter L. Williams

CHARMED LIVES: Spinning Straw into Gold: Reclaiming Our Queer Spirituality Through Story
PLAGUE: A NOVEL ABOUT HEALING.

About ordering

Books on Gay Spirituality:
White Crane Gay Spirituality Series
---
Articles and Excerpts:

Read Toby's review of Samuel Avery's The Dimensional Structure of Consciousness

Funny Coincidence: "Aliens Settle in San Francisco"
---
The Simple Answer to the Gay Marriage Debate

Why gay people should NOT Marry

What's ironic

Shame on the American People

---
A Bifurcation of Gay Spirituality
Q&A about Jungian ideas in gay consciousness
What Jesus said about Gay Rights
Common Experiences Unique to Gay Men
Is there a "uniquely gay perspective"?
The Reincarnation of Edward Carpenter
Interview on the Nature of Homosexuality
What the Bible Says about Homosexuality

Mesosexual Ideal for Straight Men

Varieties of Gay Spirituality

Waves of Gay Liberation Activity

Why Gay Spirituality: Spirituality as Artistic Medium

---
Easton Mountain Retreat Center
Andrew Harvey & Spiritual Activism
The Gay Spirituality Summit in May 2004 and the "Statement of Spirituality"
---
"It's Always About You"

The myth of the Bodhisattva Avalokitesvara


Joseph Campbell's description of Avalokiteshvara

You're Not A Wave

What is Enlightenment?

What is reincarnation?

How many lifetimes in an ego?

Emptiness & Religious Ideas

Experiencing experiencing experiencing

Going into the Light

Meditations for a Funeral

Meditation Practice

The way to get to heaven

Buddha's father was right


---
Advice to Travelers to India & Nepal
The Danda Nata & goddess Kalika
Nate Berkus is a bodhisattva
John Boswell was Immanuel Kant
The Two Loves
---
The Joseph Campbell Connection

Campbell & The Pre/Trans Fallacy
Gay Spiritual Functions

The subtle workings of the spirit in gay men's lives.

The Sinfulness of Homosexuality
Proposal for a study of gay nondualism

---
"The Evolution of Gay Identity"
"St. John of the Cross &
the Dark Night of the Soul."
Religious Articulations of the Secret

---
The Moulting of the Holy Ghost
The Hero's Journey as archetype
Marian Doctrines: Immaculate Conception & Assumption

---
Teenage Prostitution and the Nature of Evil

Allah Hu: "God is present here"

Adam and Steve

The Life is in the Blood

Gay retirement and the "freelance monastery"
---
The mystical experience at the Servites' Castle in Riverside
The Great Dance according to C.S.Lewis

---
The Techniques Of The World Saviors
Part 1: Brer Rabbit and the Tar-Baby
Part 2: The Bodhisattva Avalokiteshvara
Part 3: Jesus and the Resurrection
Part 4: A Course in Miracles
---
How Gay Souls Get Reincarnated

---
In honor of Sir Arthur C Clarke

What are you looking for in a gay science fiction novel?
---
---
Toby's friend and nicknamesake Toby Marotta.

Harry Hay, Founder of the gay movement
About Karl Heinrich Ulrichs, the first man to really "come out"

About Michael Talbot, gay mystic

---
Book Reviews




Be Done on Earth by Howard E. Cook



Pay Me What I'm Worth by Souldancer



The Way Out by Christopher L Nutter
The Gay Disciple by John Henson

Art That Dares by Kittredge Cherry

Coming Out, Coming Home by Kennth A. Burr

Extinguishing the Light by B. Alan Bourgeois

Over Coffee: A conversation For Gay Partnership & Conservative Faith by D.a. Thompson

Dark Knowledge by Kenneth Low

Janet Planet by Eleanor Lerman

The Kairos by Paul E. Hartman

Wrestling with Jesus by D.K.Maylor

Kali Rising by Rudolph Ballentine

The Missing Myth by Gilles Herrada

The Secret of the Second Coming by Howard E. Cook

The Scar Letters: A Novel by Richard Alther

The Future is Queer by Labonte & Schimel

Missing Mary by Charlene Spretnak

Gay Spirituality 101 by Joe Perez

Cut Hand: A Nineteeth Century Love Story on the American Frontier by Mark Wildyr

Radiomen by Eleanor Lerman

Nights at Rizzoli

by Felice Picano

The Key to Unlocking the Closet Door by Chelsea Griffo

The Door of the Heart by Diana Finfrock Farrar

Occam's Razor by David Duncan

Grace and Demion by Mel White

Gay Men and The New Way Forward by Raymond L. Rigoglioso

The Dimensional Stucture of Consciousness by Samuel Avery

The Manly Pursuit of Desire and Love by Perry Brass

A Cross-section of History and Consciousness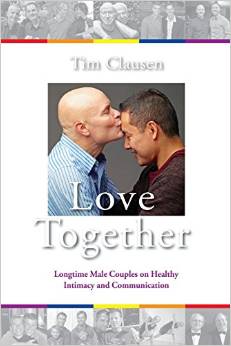 Love Together: Longtime Male Couples on Healthy Intimacy and Communication
By Tim R. Clausen
Foreword by Robert Barzan


296 pages, 978-1492822257
Available from amazon.com:
Love Together:: Longtime Male Couples on Healthy Intimacy and Communication


$17.06 POD
$8.99 Kindle




Reviewed by Toby Johnson, author of Gay Spirituality: Gay Identity and the Transformation of Human Consciousness & Gay Perspective: Things our [homo]sexuality tells us about the nature of God and the Universe.


Over a number of years, Tim Clausen interviewed gay couples about their lives together. He asked questions that elicited thoughtful reports about sexuality and affection and romance as well as very practical advice about sharing money and making decisions, (even, maybe, choosing pets). Love Together is a collection of some twenty-three of these interviews, arranged in order of length of the relationship.

The book is easy to read and quite interesting. All of the couples are nice people whom you'd probably like to have as friends. A few are relatively famous; they had to be at least slightly prominent as activists and/or gay community figures for Clausen to have found them to interview. But they are all regular guys, people whose life experiences are not that different or special from the rest of us. So their sharing is meaningful. Their experiences--of the joys and difficulties, up and downs--are normal. The accounts of love and intimacy resonated for me with my own experience of a thirty-plus year relationship.

In my life as a gay activist, I have been both a gay counselor and a gay bookstore owner (though the issues around confidentiality are different, there's a surprising amount of overlap in those two jobs!). In both contexts, I often found myself suggesting to people that the way to find a relationship or to improve the relationship one is in is to read about other relationships. Books about love and intimacy create the mindset that expects love and intimacy to be part of life. Reading about successful relationships prepares one for a relationship to be successful because that is the model you have in mind. Most of psychotherapy is about setting up positive self-fulfilling prophecies for yourself, because that is most likely what you're going to get out of life. We get what we expect.

Tim Clausen's Love Together is a wonderful demonstration of just such an exercise in creating self-fulfilling prophecies for love and intimacy and even coping with grief and loss. (One of the men in the last couple presented died before the book was finished and there's an additional interview with his partner about that difficult experience.)

The interviews are arranged roughly in chronological order. So they span some sixty-five years. That means from the 1940s to the present, from the time of homosexuality as crime and sin, through the sexual revolution, then AIDS, to the present time of same-sex marriage and gay families with children.

My partner, Kip, and I did an Earthwatch Expedition some years ago working in an archeological dig on the island of Mallorca--such shared adventures like that are part of what create texture in a loving relationship. The archaeologist running the dig was famous for having discovered a cave on the island that had a deep pit a little ways back inside, so anything from animal to human that sought shelter in the cave fell into the pit and couldn't escape. When Dr. Waldren found the cave, it proved to be a record of life on the Mediterranean island for 250,000 years, all nicely layered in chronological order. Tim Clausen's interviews, of course, don't go back that far, but DO function very much like the strata in that cave. This is especially true around issues of monogamy, exclusivity and sexual adventuring.

What you can see is that there is a stratification, i.e., stages of development, both in the individaul relationships and in the collective world through which the relationships are growing. Expectations within a relationship change over time, and they change within the context of the social and political reality of the past 65 years.

I recommend this book for all sorts of reasons, not least of which is the loveliness and even poignancy of the gay men's love and affection which the book so wonderfully demonstrates.