Contact Us

Table of Contents

Search Site



~

Also on this website:
Toby Johnson's books:
GAY SPIRITUALITY: The Role of Gay Identity in the Transformation of Human Consciousness
GAY PERSPECTIVE: Things Our Homosexuality Tells Us about the Nature of God and the Universe
SECRET MATTER: updated, revised & expanded edition from Lethe Press with Afterword by Mark Jordan

GETTING LIFE IN PERSPECTIVE: A romance novel set in the 1980s and the 1890s.

THE FOURTH QUILL, a novel about attitudinal healing and the problem of evil

TWO SPIRITS: A Story of Life with the Navajo, a collaboration with Walter L. Williams

CHARMED LIVES: Spinning Straw into Gold: Reclaiming Our Queer Spirituality Through Story
PLAGUE: A NOVEL ABOUT HEALING.

About ordering

Books on Gay Spirituality:
White Crane Gay Spirituality Series
---
Articles and Excerpts:

Read Toby's review of Samuel Avery's The Dimensional Structure of Consciousness

Funny Coincidence: "Aliens Settle in San Francisco"
---
The Simple Answer to the Gay Marriage Debate

Why gay people should NOT Marry

What's ironic

Shame on the American People

---
A Bifurcation of Gay Spirituality
Q&A about Jungian ideas in gay consciousness
What Jesus said about Gay Rights
Common Experiences Unique to Gay Men
Is there a "uniquely gay perspective"?
The Reincarnation of Edward Carpenter
Interview on the Nature of Homosexuality
What the Bible Says about Homosexuality

Mesosexual Ideal for Straight Men

Varieties of Gay Spirituality

Waves of Gay Liberation Activity

Why Gay Spirituality: Spirituality as Artistic Medium

---
Easton Mountain Retreat Center
Andrew Harvey & Spiritual Activism
The Gay Spirituality Summit in May 2004 and the "Statement of Spirituality"
---
"It's Always About You"

The myth of the Bodhisattva Avalokitesvara


Joseph Campbell's description of Avalokiteshvara

You're Not A Wave

What is Enlightenment?

What is reincarnation?

How many lifetimes in an ego?

Emptiness & Religious Ideas

Experiencing experiencing experiencing

Going into the Light

Meditations for a Funeral

Meditation Practice

The way to get to heaven

Buddha's father was right


---
Advice to Travelers to India & Nepal
The Danda Nata & goddess Kalika
Nate Berkus is a bodhisattva
John Boswell was Immanuel Kant
The Two Loves
---
The Joseph Campbell Connection

Campbell & The Pre/Trans Fallacy
Gay Spiritual Functions

The subtle workings of the spirit in gay men's lives.

The Sinfulness of Homosexuality
Proposal for a study of gay nondualism

---
"The Evolution of Gay Identity"
"St. John of the Cross &
the Dark Night of the Soul."
Religious Articulations of the Secret

---
The Moulting of the Holy Ghost
The Hero's Journey as archetype
Marian Doctrines: Immaculate Conception & Assumption

---
Teenage Prostitution and the Nature of Evil

Allah Hu: "God is present here"

Adam and Steve

The Life is in the Blood

Gay retirement and the "freelance monastery"
---
The mystical experience at the Servites' Castle in Riverside
The Great Dance according to C.S.Lewis

---
The Techniques Of The World Saviors
Part 1: Brer Rabbit and the Tar-Baby
Part 2: The Bodhisattva Avalokiteshvara
Part 3: Jesus and the Resurrection
Part 4: A Course in Miracles
---
How Gay Souls Get Reincarnated

---
In honor of Sir Arthur C Clarke

What are you looking for in a gay science fiction novel?
---
---
Toby's friend and nicknamesake Toby Marotta.

Harry Hay, Founder of the gay movement
About Karl Heinrich Ulrichs, the first man to really "come out"

About Michael Talbot, gay mystic

---
Book Reviews




Be Done on Earth by Howard E. Cook



Pay Me What I'm Worth by Souldancer



The Way Out by Christopher L Nutter
The Gay Disciple by John Henson

Art That Dares by Kittredge Cherry

Coming Out, Coming Home by Kennth A. Burr

Extinguishing the Light by B. Alan Bourgeois

Over Coffee: A conversation For Gay Partnership & Conservative Faith by D.a. Thompson

Dark Knowledge by Kenneth Low

Janet Planet by Eleanor Lerman

The Kairos by Paul E. Hartman

Wrestling with Jesus by D.K.Maylor

Kali Rising by Rudolph Ballentine

The Missing Myth by Gilles Herrada

The Secret of the Second Coming by Howard E. Cook

The Scar Letters: A Novel by Richard Alther

The Future is Queer by Labonte & Schimel

Missing Mary by Charlene Spretnak

Gay Spirituality 101 by Joe Perez

Cut Hand: A Nineteeth Century Love Story on the American Frontier by Mark Wildyr

Radiomen by Eleanor Lerman

Nights at Rizzoli

by Felice Picano

The Key to Unlocking the Closet Door by Chelsea Griffo

The Door of the Heart by Diana Finfrock Farrar

Occam's Razor by David Duncan

Grace and Demion by Mel White

Gay Men and The New Way Forward by Raymond L. Rigoglioso

The Dimensional Stucture of Consciousness by Samuel Avery

The Manly Pursuit of Desire and Love by Perry Brass

"From the frontiers of science today, a disturbing novel of wonder and imagination"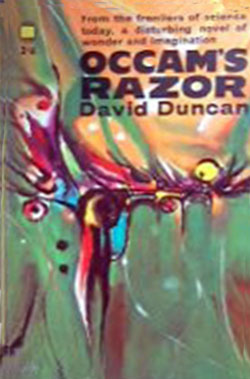 Occam's Razor

By David Duncan
The New English Library, 160 pages
copyright 1957

Available from amazon.com
Reviewed by Toby Johnson
I read this book when I was a teenager in the late 1950s. It was a newly published paperback at the time; the Public Library had just started stocking paperbacks—especially of "genre books," like sci-fi. I read ALL the sci-fi in the branch library in my neighborhood. This book has remained in my memory. It was very interesting to see how influential it proved in my general thinking about the nature of universe as conceived by modern science. Duncan's

Occam's Razor

is based on a parallel universe model. In the admittedly thin plot, the brilliant, but sort of mad, scientist discovers that soap film can be stretched so thin that it creates an opening into other parallel universes, other dimensions.

I am author of a sci-fi novel—in the gay genre—titled

Secret Matter

. I wrote that in the mid-80s. Its plot is based on a parallel universe model. Though I certainly did not have

Occam's Razor

on my mind when I was writing
Secret Matter
, I see how it had long before provided me my parallel universe concept. And I discover that the "alien male in Duncan's novel is named Bel-Abon; the alien visitor in Secret Matter is named 'Bel. I did not do that intentionally. I DID consciously model the opening of my novel on Arthur C. Clarke's

Childhood's End

, i.e. the arrival of aliens in many spaceships that hover over major cities.
Childhood's End
was my favorite of all those books in that Public Library and Arthur C. Clarke provided me a model of sci-fi as a kind of modern myth through which to understand the universe.

I can see
Childhood's End
'
s influence, I think, on David Duncan. (These two novels from the 1950s were written about 4 years apart.) Clarke
'
s novel opens on an island in the South Pacific where a lunar mission spaceship is being constructed; Duncan
'
s novel is set on an island in the Caribbean where a lunar mission ship is being built. Clarke
'
s aliens, The Overlords, turn out to look like devils with horns (in one of the major plot twists of the novel). Duncan
'
s accidental visitors from another dimension, through the soap film stretched along a mobius strip, are an Eve-like woman and a man with horns. David Duncan
'
s novel reads pleasantly like an Arthur C. Clarke novel, though without quite as much plot. I hope I
'
m right in thinking Duncan offered a little honorific to Clarke in
Occam's Razor
, just as I did in
Secret Matter
.

And, of course, the central trope of the novel is the principle of parsimony, the so-called "Razor" of William of Occam, which states that the simplest answer to any mystery or problem is most likely to be the right one. From reading this novel as a boy I think I came to see the rightness of this principle of logic and morality. No wonder this little book of science as cosmological myth has stayed with me all these years.