Contact Us

Table of Contents

Search Site



~

Also on this website:
Toby Johnson's books:
GAY SPIRITUALITY: The Role of Gay Identity in the Transformation of Human Consciousness
GAY PERSPECTIVE: Things Our Homosexuality Tells Us about the Nature of God and the Universe
SECRET MATTER: updated, revised & expanded edition from Lethe Press with Afterword by Mark Jordan

GETTING LIFE IN PERSPECTIVE: A romance novel set in the 1980s and the 1890s.

THE FOURTH QUILL, a novel about attitudinal healing and the problem of evil

TWO SPIRITS: A Story of Life with the Navajo, a collaboration with Walter L. Williams

CHARMED LIVES: Spinning Straw into Gold: Reclaiming Our Queer Spirituality Through Story
PLAGUE: A NOVEL ABOUT HEALING.

About ordering

Books on Gay Spirituality:
White Crane Gay Spirituality Series
---
Articles and Excerpts:

Read Toby's review of Samuel Avery's The Dimensional Structure of Consciousness

Funny Coincidence: "Aliens Settle in San Francisco"
---
The Simple Answer to the Gay Marriage Debate

Why gay people should NOT Marry

What's ironic

Shame on the American People

---
A Bifurcation of Gay Spirituality
Q&A about Jungian ideas in gay consciousness
What Jesus said about Gay Rights
Common Experiences Unique to Gay Men
Is there a "uniquely gay perspective"?
The Reincarnation of Edward Carpenter
Interview on the Nature of Homosexuality
What the Bible Says about Homosexuality

Mesosexual Ideal for Straight Men

Varieties of Gay Spirituality

Waves of Gay Liberation Activity

Why Gay Spirituality: Spirituality as Artistic Medium

---
Easton Mountain Retreat Center
Andrew Harvey & Spiritual Activism
The Gay Spirituality Summit in May 2004 and the "Statement of Spirituality"
---
"It's Always About You"

The myth of the Bodhisattva Avalokitesvara


Joseph Campbell's description of Avalokiteshvara

You're Not A Wave

What is Enlightenment?

What is reincarnation?

How many lifetimes in an ego?

Emptiness & Religious Ideas

Experiencing experiencing experiencing

Going into the Light

Meditations for a Funeral

Meditation Practice

The way to get to heaven

Buddha's father was right


---
Advice to Travelers to India & Nepal
The Danda Nata & goddess Kalika
Nate Berkus is a bodhisattva
John Boswell was Immanuel Kant
The Two Loves
---
The Joseph Campbell Connection

Campbell & The Pre/Trans Fallacy
Gay Spiritual Functions

The subtle workings of the spirit in gay men's lives.

The Sinfulness of Homosexuality
Proposal for a study of gay nondualism

---
"The Evolution of Gay Identity"
"St. John of the Cross &
the Dark Night of the Soul."
Religious Articulations of the Secret

---
The Moulting of the Holy Ghost
The Hero's Journey as archetype
Marian Doctrines: Immaculate Conception & Assumption

---
Teenage Prostitution and the Nature of Evil

Allah Hu: "God is present here"

Adam and Steve

The Life is in the Blood

Gay retirement and the "freelance monastery"
---
The mystical experience at the Servites' Castle in Riverside
The Great Dance according to C.S.Lewis

---
The Techniques Of The World Saviors
Part 1: Brer Rabbit and the Tar-Baby
Part 2: The Bodhisattva Avalokiteshvara
Part 3: Jesus and the Resurrection
Part 4: A Course in Miracles
---
How Gay Souls Get Reincarnated

---
In honor of Sir Arthur C Clarke

What are you looking for in a gay science fiction novel?
---
---
Toby's friend and nicknamesake Toby Marotta.

Harry Hay, Founder of the gay movement
About Karl Heinrich Ulrichs, the first man to really "come out"

About Michael Talbot, gay mystic

---
Book Reviews




Be Done on Earth by Howard E. Cook



Pay Me What I'm Worth by Souldancer



The Way Out by Christopher L Nutter
The Gay Disciple by John Henson

Art That Dares by Kittredge Cherry

Coming Out, Coming Home by Kennth A. Burr

Extinguishing the Light by B. Alan Bourgeois

Over Coffee: A conversation For Gay Partnership & Conservative Faith by D.a. Thompson

Dark Knowledge by Kenneth Low

Janet Planet by Eleanor Lerman

The Kairos by Paul E. Hartman

Wrestling with Jesus by D.K.Maylor

Kali Rising by Rudolph Ballentine

The Missing Myth by Gilles Herrada

The Secret of the Second Coming by Howard E. Cook

The Scar Letters: A Novel by Richard Alther

The Future is Queer by Labonte & Schimel

Missing Mary by Charlene Spretnak

Gay Spirituality 101 by Joe Perez

Cut Hand: A Nineteeth Century Love Story on the American Frontier by Mark Wildyr

Radiomen by Eleanor Lerman

Nights at Rizzoli

by Felice Picano

The Key to Unlocking the Closet Door by Chelsea Griffo

The Door of the Heart by Diana Finfrock Farrar

Occam's Razor by David Duncan

Grace and Demion by Mel White

Gay Men and The New Way Forward by Raymond L. Rigoglioso

The Dimensional Stucture of Consciousness by Samuel Avery

The Manly Pursuit of Desire and Love by Perry Brass

Love Together: Longtime Male Couples on Healthy Intimacy and Communication by Tim Clausen

War Between Materialism and Spiritual by Jean-Michel Bitar

The Serpent's Gift: Gnostic Reflections on the Study of Religion by Jeffrey J. Kripal

Esalen: America and the Religion of No Religion
by Jeffrey J. Kripal

The Invitation to Love by Darren Pierre

Brain, Consciousness, and God: A Lonerganian Integration by Daniel A Helminiak

A Walk with Four Spiritual Guides by Andrew Harvey

Can Christians Be Saved? by Stephenson & Rhodes

The Lost Secrets of the Ancient Mystery Schools by Stephenson & Rhodes

Keys to Spiritual Being by Adrian Ravarour

In Walt We Trust by John Marsh

Solomon's Tantric Song by Rollan McCleary

A Special Illumination by Rollan McCleary

Aelred's Sin by Lawrence Scott

Fruit Basket by Payam Ghassemlou

Internal Landscapes by John Ollom

Scissors, Paper, Rock by Fenton Johnson

Diving deep into the Unconscious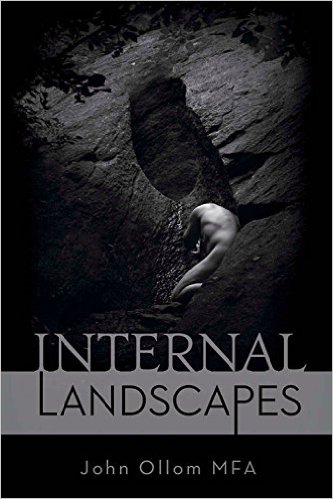 Internal Landscapes

By John Ollom
Book Baby, April 1, 2015

230 pages,
Trade paperback, $30.35


978-1631926600


Available from
amazon.com,
click here:
Internal Landscapes



Reviewed by Toby Johnson, author of Gay Spirituality: Gay Identity and the Transformation of Human Consciousness

This is a beautiful book, just the material object in your hand. It's colorfully illustrated and nicely designed. Some of the pages hold only short poems or aphorisms and it's easy to just riffle through the pages reading here and there, admiring the images of nature, of colorful abstracts, and especially of costumed (and not so costumed) dancers.

Internal Landscapes is a documentation of choreographer John Ollom's art and production. Within the book are descriptions of performances and art festivals. In that sense, it is like his portfolio or an art catalogue or program.

But it is also more than that because Ollom's dance performances are more than just "art." They are also psychological, archetypal experiences and adventures in consciousness. The book opens with a discussion of how John Ollom learned to use movement to elict deep experience in his dance students: Chapter 1 is titled "Psychological and Anthropological Findings." The stories in myth and legend--which often form the "libretto" of music and dance--have become canonized because they capture deep human experience and common patterns in life--as mythical, not logical. They speak to something deeper than the conscious mind. Movement is a way to sidestep logic and awaken the mythic unconscious mind. Dance creates what in other contexts would be called ritual, and like ritual, dance can bring repressed and denied stories to the surface. Movement and dance act as a kind of psychoanalytic trigger for opening the mind. And in performance, the observer is also called to follow the dancer into his or her own deep unconscious. The book's title "Internal Landscapes," of course, alludes to this power to reach into and waken the mind.

The writing style is a little inelegant at times, but this isn't literature or a book about writing. It's a book about the power of art and movement. A clumsy sentence here and there can be forgiven. I liked this book. I especially like John Ollom's intention to move art and dance into the realm of psychological medicine and transcendence. This is dance movement as yoga and contemplation. And beautifully done!