Contact Us

Table of Contents

Search Site



~

Also on this website:
Toby Johnson's books:
GAY SPIRITUALITY: The Role of Gay Identity in the Transformation of Human Consciousness
GAY PERSPECTIVE: Things Our Homosexuality Tells Us about the Nature of God and the Universe
SECRET MATTER: updated, revised & expanded edition from Lethe Press with Afterword by Mark Jordan

GETTING LIFE IN PERSPECTIVE: A romance novel set in the 1980s and the 1890s.

THE FOURTH QUILL, a novel about attitudinal healing and the problem of evil

TWO SPIRITS: A Story of Life with the Navajo, a collaboration with Walter L. Williams

CHARMED LIVES: Spinning Straw into Gold: Reclaiming Our Queer Spirituality Through Story
PLAGUE: A NOVEL ABOUT HEALING.

About ordering

Books on Gay Spirituality:
White Crane Gay Spirituality Series
---
Articles and Excerpts:

Read Toby's review of Samuel Avery's The Dimensional Structure of Consciousness

Funny Coincidence: "Aliens Settle in San Francisco"
---
The Simple Answer to the Gay Marriage Debate

Why gay people should NOT Marry

What's ironic

Shame on the American People

---
A Bifurcation of Gay Spirituality
Q&A about Jungian ideas in gay consciousness
What Jesus said about Gay Rights
Common Experiences Unique to Gay Men
Is there a "uniquely gay perspective"?
The Reincarnation of Edward Carpenter
Interview on the Nature of Homosexuality
What the Bible Says about Homosexuality

Mesosexual Ideal for Straight Men

Varieties of Gay Spirituality

Waves of Gay Liberation Activity

Why Gay Spirituality: Spirituality as Artistic Medium

---
Easton Mountain Retreat Center
Andrew Harvey & Spiritual Activism
The Gay Spirituality Summit in May 2004 and the "Statement of Spirituality"
---
"It's Always About You"

The myth of the Bodhisattva Avalokitesvara


Joseph Campbell's description of Avalokiteshvara

You're Not A Wave

Joseph Campbell Talks about Aging

What is Enlightenment?

What is reincarnation?

How many lifetimes in an ego?

Emptiness & Religious Ideas

Experiencing experiencing experiencing

Going into the Light

Meditations for a Funeral

Meditation Practice

The way to get to heaven

Buddha's father was right

Cutting edge realization

What Anatman means

The Myth of the Wanderer

Change: Source of Suffering & of Bliss

The World Navel

What the Vows Really Mean

Manifesting from the Subtle Realms


---
Advice to Travelers to India & Nepal
The Danda Nata & goddess Kalika
Nate Berkus is a bodhisattva
John Boswell was Immanuel Kant
The Two Loves
---
The Joseph Campbell Connection

Campbell & The Pre/Trans Fallacy
Gay Spiritual Functions

The subtle workings of the spirit in gay men's lives.

The Sinfulness of Homosexuality
Proposal for a study of gay nondualism

---
"The Evolution of Gay Identity"
"St. John of the Cross &
the Dark Night of the Soul."
Religious Articulations of the Secret

---
The Moulting of the Holy Ghost
The Hero's Journey as archetype
Marian Doctrines: Immaculate Conception & Assumption

---
Teenage Prostitution and the Nature of Evil

Allah Hu: "God is present here"

Adam and Steve

The Life is in the Blood

Gay retirement and the "freelance monastery"
---
The mystical experience at the Servites' Castle in Riverside
The Great Dance according to C.S.Lewis

---
The Techniques Of The World Saviors
Part 1: Brer Rabbit and the Tar-Baby
Part 2: The Bodhisattva Avalokiteshvara
Part 3: Jesus and the Resurrection
Part 4: A Course in Miracles
---
How Gay Souls Get Reincarnated

---
In honor of Sir Arthur C Clarke

What are you looking for in a gay science fiction novel?
---
---
Toby's friend and nicknamesake Toby Marotta.

Harry Hay, Founder of the gay movement
About Karl Heinrich Ulrichs, the first man to really "come out"

About Michael Talbot, gay mystic

---
Book Reviews




Be Done on Earth by Howard E. Cook



Pay Me What I'm Worth by Souldancer



The Way Out by Christopher L Nutter
The Gay Disciple by John Henson

Art That Dares by Kittredge Cherry

Coming Out, Coming Home by Kennth A. Burr

Extinguishing the Light by B. Alan Bourgeois

Over Coffee: A conversation For Gay Partnership & Conservative Faith by D.a. Thompson

Dark Knowledge by Kenneth Low

Janet Planet by Eleanor Lerman

The Kairos by Paul E. Hartman

Wrestling with Jesus by D.K.Maylor

Kali Rising by Rudolph Ballentine

The Missing Myth by Gilles Herrada

The Secret of the Second Coming by Howard E. Cook

The Scar Letters: A Novel by Richard Alther

The Future is Queer by Labonte & Schimel

Missing Mary by Charlene Spretnak

Gay Spirituality 101 by Joe Perez

Cut Hand: A Nineteeth Century Love Story on the American Frontier by Mark Wildyr

Radiomen by Eleanor Lerman

Nights at Rizzoli

by Felice Picano

The Key to Unlocking the Closet Door by Chelsea Griffo

The Door of the Heart by Diana Finfrock Farrar

Occam's Razor by David Duncan

Grace and Demion by Mel White

Gay Men and The New Way Forward by Raymond L. Rigoglioso

The Dimensional Stucture of Consciousness by Samuel Avery

The Manly Pursuit of Desire and Love by Perry Brass

Love Together: Longtime Male Couples on Healthy Intimacy and Communication by Tim Clausen

War Between Materialism and Spiritual by Jean-Michel Bitar

The Serpent's Gift: Gnostic Reflections on the Study of Religion by Jeffrey J. Kripal

Esalen: America and the Religion of No Religion
by Jeffrey J. Kripal

The Invitation to Love by Darren Pierre

Brain, Consciousness, and God: A Lonerganian Integration by Daniel A Helminiak

A Walk with Four Spiritual Guides by Andrew Harvey

Can Christians Be Saved? by Stephenson & Rhodes

The Lost Secrets of the Ancient Mystery Schools by Stephenson & Rhodes

Keys to Spiritual Being by Adrian Ravarour

In Walt We Trust by John Marsh

Solomon's Tantric Song by Rollan McCleary

A Special Illumination by Rollan McCleary

Aelred's Sin by Lawrence Scott

Fruit Basket by Payam Ghassemlou

Internal Landscapes by John Ollom

Princes & Pumpkins by David Hatfield Sparks

Blood of the Goddess by William Schindler

Sanctity & Male Desire by Donald Boisvert

Roads of Excess, Palaces of Wisdom by Jeffrey Kripal

Evolving Dharma by Jay Michaelson

Jesus in Salome's Lot by Brett W. Gillette

The Man Who Loved Birds by Fenton Johnson

The Vatican Murders by Lucien Gregoire

"Sex Camp" by Brian McNaught

Out & About with Brewer & Berg
Episode One: Searching for a New Mythology

The Soul Beneath the Skin by David Nimmons

Out on Holy Ground by Donald Boisvert

The Revolutionary Psychology of Gay-Centeredness by Mitch Walker

Out There by Perry Brass

The Crucifixion of Hyacinth by Geoff Puterbaugh

The Silence of Sodom by Mark D Jordan

It's Never About What It's About by Krandall Kraus and Paul Borja

ReCREATIONS, edited by Catherine Lake

Gospel: A Novel by WIlton Barnhard

Keeping Faith: A Skeptic's Journey by Fenton Johnson

Dating the Greek Gods by Brad Gooch

Telling Truths in Church by Mark D. Jordan

The Substance of God by Perry Brass

The Tomcat Chronicles by Jack Nichols

10 Smart Things Gay Men Can Do to Improve Their Lives by Joe Kort

Jesus and the Shamanic Tradition of Same Sex Love by Will Roscoe

The Third Appearance by Walter Starcke

The Last Hours of Ancient Sunlight by Thom Hartmann

Surviving and Thriving After a Life-Threatening Diagnosis by Bev Hall

Men, Homosexuality, and the Gods by Ronald Long

Interview with Ron Long

Queering Creole Spiritual Traditions by Randy Conner & David Sparks

An Interview with Randy Conner

Pain, Sex and Time by Gerald Heard

Sex and the Sacred by Daniel Helminiak

Blessing Same-Sex Unions by Mark Jordan

Rising Up by Joe Perez

That Undeniable Longing by Mark Tedesco

Vintage: A Ghost Story by Steve Berman

Wisdom for the Soul by Larry Chang

Soulfully Gay by Joe Perez

MM4M a DVD by Bruce Grether

Double Cross by David Ranan

The Transcended Christian by Daniel Helminiak

Jesus in Love by Kittredge Cherry

In the Eye of the Storm by Gene Robinson

The Starry Dynamo by Sven Davisson

Life in Paradox by Fr Paul Murray

Spirituality for our Global Community by Daniel Helminiak

Gay and Healthy in a Sick-Society by Robert A. Minor

Queering Christ by Robert Goss

Skipping Towards Gomorrah by Dan Savage

The Flesh of the Word by Richard A Rosato

Catland by David Garrett Izzo

Tantra for Gay Men by Bruce Anderson

Yoga & the Path of the Urban Mystic by Darren Main

Simple Grace by Malcolm Boyd

Seventy Times Seven by Salvatore Sapienza

Scissors, Paper, Rock by Fenton Johnson

The Christ-force

This article appeared in White Crane Journal #39, Winter 1998/99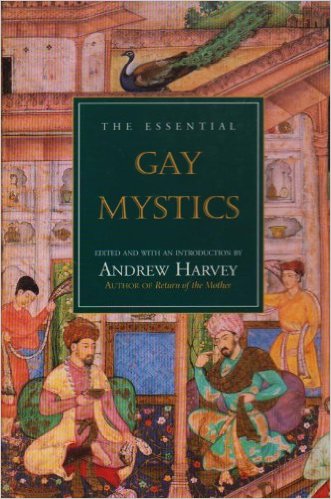 In the Introduction to The Essential Gay Mystics, Andrew Harvey writes of the mystical experience as "a direct and naked perception of Godhead, beyond dogma, beyond ideas, beyond any possible formulation in words of any kind." There is a tradition of such mystical seekers, Harvey says, and a surprisingly large number of them were gay. Surprising, he says, because nearly all the established religions condemn homosexuality and say that homosexuals are without spiritual life. In fact, as we know, the truth is diametrically opposite.

Harvey argues that the homophobia that generates this error is purely human and relatively recent, not of age-old divine ordination. And, indeed, this homophobia is destructive to religion. For it is part of the mindset that creates the polarization of male and female and deters most men and women from allowing themselves the so-called "mystical marriage" of male and female in the soul. Straight men, especially, resist allowing their feminine traits to develop. And we've ended up with a "male-centered, male-dominated, competitive, exploitative, war-and-power obsessed mentality."

But there is a transformation underway—a "birth into a wholly new cosmic consciousness" — that is signified (and realized) by the return of the Sacred Feminine. The salvation of the human race depends on this transformation in which the intense polarizations of current human consciousness are transcended. Gay people demonstrate the blending of male and female traits and virtues. Perhaps more importantly, the struggle of gay people to end homophobia works to relax one of the major inhibitions human beings have to the merging of male and female. (Straight people are, after all, the most severely damaged by homophobia. Gay people work on themselves to get over it—and sometimes achieve greatness of soul in the process. Straight people suffer without even knowing it, fearful of their sexuality and trapped in the polarizations, angry at gay people onto whom they project all their own discomfort and anxiety about sex.)

This transformation goes on at a mystical level. Harvey calls for seekers, gay and straight, to overcome homophobia and to practice a tantric sexuality that honors incarnation in flesh and celebrates—and ritualizes—the merging of male and female, body and spirit. The mystical practice radiates divine passion and divine energy and helps propel the world toward ongoing transformation in the Divine Mother.


In his Son of Man: The Mystical Path to Christ, Harvey demonstrates the kind of work and world transformation he has called gay people to perform. Son of Man is not a gay book as such, but it clearly exemplifies the enlightened, mystical message that comes from the mystical marriage in the gay soul. For Son of Man is a sensible, modern explication of the life and teachings of Jesus free of the usual self-serving spin the Christian Churches give the story.

Choosing the term Jesus is said to have used for himself, "Son of Man," not "Son of God," Harvey presents Jesus as an accomplished mystical seeker who saw into the nature of Divinity and achieved miraculous healing abilities and yogic-like powers.Most of all, though, he saw into the human heart. He saw that the proper basis of morality was not obedience to Law but love and compassion. He was a revolutionary who called for a total overthrow of the social and religious culture of his day. He championed the plight of women in the face of rigid patriarchy. He dismissed riches as a sign of divine election. He ridiculed thepriests and religious authorities. He called for a utopian world born from love of neighbor and mystical vision of the Kingdom.

Beyond calling for a reunderstanding and reclaiming of the story of Jesus, Harvey also calls for a reappreciation of the image of the Blessed Virgin Mary. Rather than being just a pious example of maternal asexuality, Mary is the manifestation in Christian tradition of the Sacred Feminine. Surprisingly, it is through her that Harvey says sacred sex should be practiced.

Andrew Harvey is a passionate spokesman for the mystical vision. His own personality manifests a fascination with the Transcendent Reality and the energy and obsession such a vision generates. His reassessment of Jesus and the Christian myth should be read by every gay man interested in spiritual vision.



Any couple who consecrates their love to Mary and Jesus will find that the Christ-fire enters and irradiates their lovemaking at every level. And this is not metaphor. The "green fire" of the Holy Spirit, what Hildegard of Bingen described as "viriditas," is nakedly visible when pure love is present, and its effects are palpable at every level: physically, in healing the pains and awkwardness of the body, those places where false shame and guilt have hidden for decades; emotionally, in revealing the all-encompassing dance of love in the universe; and spiritually, in slowly but astoundingly birthing both partners in to the beginnings of Christ-consciousness.

What happens in the consecration of sexuality to Christ is that its essential Christ-heat is released. The Christ-heat that is the outstreaming of the completely open Sacred Heart and also the secret, life-sustaining energy of the body is now made alive, vivid, ecstatic, and above all conscious. It is seen and known as one force, one central, sacred, directly initiatory force that has no divisions or boundaries, and springs and flows and streams always from the Father-Mother. The aim of Tantra of Christ is to awaken this Christ-force, the force of divine human love, and to permeate and saturate consciousness and ordinary life with it, and so grow the "love body" spiritually, physically, and practically.

The restoration in the Mother of the tantric aspect of the Christ-force will permanently dissolve the hysterical body-hatred of the Christian tradition as it has developed. Consecrated human love will become Holy Communion, and Christ's words, "Take, eat. This is is my Body," will reveal another dimension of miracle. (Son of Man, p 190)