BRO. MARTIN MCMURTREY, S.M. DIED ON FRIDAY, NOVEMBER 9, 2007,
IN HIS 87TH YEAR OF LIFE
AND 69TH OF HIS RELIGIOUS PROFESSION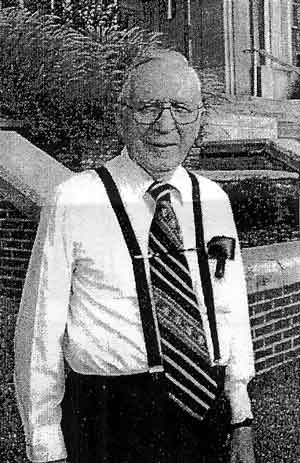 Bro. Martin Aloysius McMurtrey, S.M. died Friday, November 9, 2007, in his 87th year of life and 69th of his religious profession.
He was born in East St. Louis, Illinois, on April 16, 1921, to Martin and Alice Coerver McMurtrey, one of four children.
He attended St. Philip's School taught by the Sisters of Notre Dame who influenced him to be a teacher. He next attended Central Catholic High School in East St. Louis, where he was inspired to join the Society of Mary. He entered the Postulate at Maryhurst on July 21, 1937 (after his junior year of high school).
After a novitiate and first vows in 1939, he spent the first year of the Scholasticate at Maryhurst. He earned a Bachelor of Arts degree in English with a minor in Mathematics from the University of Dayton in 1942, and a Master's of Education from St. Louis University in 1949.
His first teaching assignment was at St. Michael's High School in Chicago for two years.
He made perpetual vows on August 15, 1943, at Galesville, Wisconsin.
From 1945-49, he taught at Cathedral High School in Belleville, Illinois.
In 1951, he was assigned to Central Catholic High School in San Antonio, Texas, where for 49 years he taught English, Engineering Drafting, and coached football. From 1961 to 1994, he taught Creative Writing complete with a Student Anthology. He was proud that several best-selling authors emerged from that class. He also founded the Guardian Angels at Central Catholic, an organization that channeled student collections of food, toys and clothing to underprivileged persons throughout the city.
From 1970 to 1991, he taught CCD classes at St. Agnes Parish.
He retired from Central Catholic High School in San Antonio in 2000, but his legacy continues...not only in the 6,000 students he influenced during those 49 years, but also in the students who have benefited from the scholarship fund created in Bro. McMurtrey's name in 1975.
In 2000, over 250 former students gathered to honor Bro. McMurtrey. During the program, called "The Last English Class," he was presented several honors including an official certificate of appreciation from the City of San Antonio, the Hidalgo de San Antonio de Bejar award from the Commissioners Court of Bexar County, and an official resolution from the State of Texas.
Throughout his retirement, building his scholarship became his Number One priority. he would often be seen picking up pecans and recycling aluminum cans to be sold, with the proceeds designated for his scholarship fund.
Since 1975, the McMurtrey Scholarship Fund has granted more than $1 million in scholarships and served over 3,000 needy students wanting to attend a Catholic school.
Bro. McMurtrey was the author of 12 books (either solely or together with Bro. Herbert Janson, S.M.) including The Mariachi Bishop, a biography of retired Archbishop Patrick F. Flores, and a novel based upon his Illinois youth call Loose to the Wilds.
The Rosary will be prayed for Bro. Martin at 7:00 PM on Monday, November 12, with the funeral Mass on Tuesday, November 13, at 4:00 PM, both at Holy Rosary Church, 159 Camino Santa Maria (adjacent to St. Mary's University). Interment in the Marianist cemetery at St. Mary's University follows the funeral Mass.
In lieu of flowers, memorial contributions may be directed to the Bro. Martin McMurtrey Scholarship Fund at Central Catholic High School, C/O the Relations & Development Office, 1403 N. St. Mary's Street, San Antonio, Texas 78215.